FlyMe quick guide
Guide is a bit outdated. New documentation for FlyMe 3.0 will be available soon.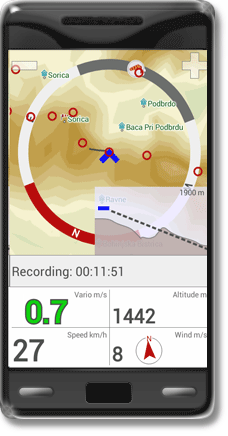 Map

known thermals

wind direction

goal direction

geo. locations (cities,...)

paragliding launch sites

other gliders (live tracking)

waypoints (editable)
Tap the map to switch between
Rotating map
and
Flight trial map
.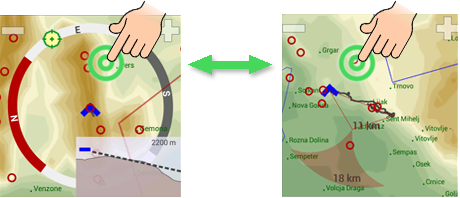 On Flight trial map you can see whole flight trail, FAI assistant and task path. Terrain side view is shown on the Rotating map only. All other features are visible on both maps.
Terrain side view
Tap the Terrain side view box to change map orientation and extend/shrink the terain view.


Forbidden airspace
Message box
Tap the message box to switch between
status
,
distance/task
and
goal
.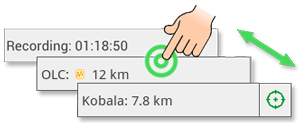 The view automatically changes every 5 seconds.
If competition task is active, the message box shows the most relevant info about the task and next turnpoint
(see Competition tasks below for details).
Waypoints, goal, tasks
Tap the
goal
icon to select destination point or task.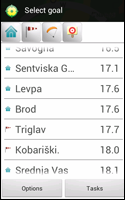 Show/hide geo. locations, launch sites, other gliders (live tracking), waypoints.
Waypoints can be added, edited or deleted (long press on the waypoint).
Editable waypoints are stored in file xcglobe/poi/waypoints.cup. You can also modify this file by hand.
Thermal assistant
Thermal assistant shows up automatically when you start circling in thermal.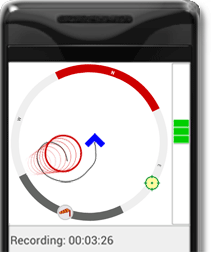 Thermal assistant with option Vario bubbles enabled.
(Options -> Display & Sound -> Vario bubbles)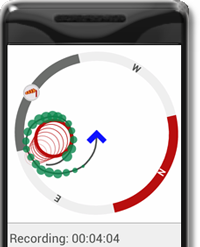 Numeric display
Tap the numeric display to switch between views.

Extra data box
Extra data box is hidden by default (Settings -> Display & Sound -> Extra data box).
Tap to switch between different kind of information.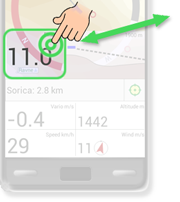 Finesse
Heading
Nearest thermal

Ground speed (trim) in all directions, considering wind

Competition tasks
You can manage tasks in the menu Options -> Tasks & waypoints.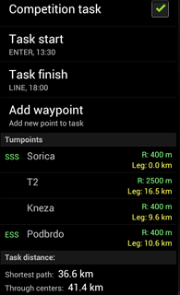 Competition task navigation: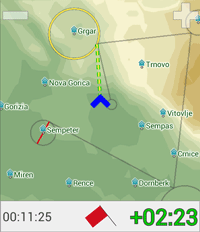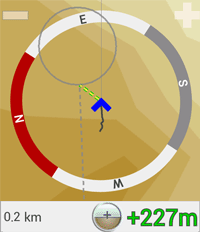 When competition task is active, FlyMe calculates optimised path that minimises the overall distance. Optimised path is shown on the map, together with cylinders, goal line and direction line to the next turnpoint.
Message box shows following information during competition task:
Before start cylinder crossed



Left:

Time to the opening of the start cylinder (hh:mm:ss). After the opening, the red flag turns to green.


Right:

How early (positive, green) or late (negative, red) will you arrive at the optimised point of the start cylinder (min:sec). When it shows zero, you will arrive at the optimal starting point exactly when the start cylinder opens. FlyMe takes into account any waypoint that has to be validated before the start cylinder.
Approaching next turnpoint (optimised point of the cylinder)

Left:

Distance to next turnpoint


Right:

Arrival height above next turnpoint, with respect to the ground elevation of the turnpoint. FlyMe continuously calculates this value taking into account your glider performance and wind speed.
Next turnpoint is not yet within your reach

Left:

Distance to next turnpoint


Right:

Ground elevation of the turnpoint
External Bluetooth devices (GPS, vario)
Currently supported devices: Flytec SensBox, BlueFlyVario, FlyNet 2, Flight Bandit .
To use external sensor with FlyMe, you only need to enable option: Options -> Other options -> External device.
No other configuration is needed. With this option enabled, FlyMe will try to use any available external device in range. If more devices are detected, the one which has already been connected will have the precedence. In case the connected external device becomes unavailable, FlyMe will automatically switch back to internal sensors (or other external device, if available).
Blue label on the message box indicates that the external bluetooth device is active.


Main Menu
Open main menu by pressing device Option button, or by long press on the map.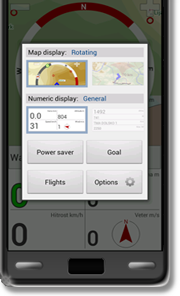 The main menu offers the following choices:
Switch between map views
Switch between numeric views
Power saver (just recording, screen is off, minimal battery consumption)
Goal (select waypoint or task)
Flights (show saved tracks) or Stop flight (stop recording)
Options
Options screen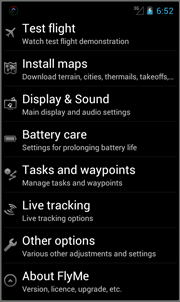 Flight recording
Start recording
- automatic flight start detection
(configurable via Options -> Other options -> IGC recording -> Movement detection)
Stop recording
- automatic detection or manually from main menu